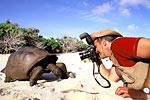 We work almost exclusively with established professional photographers and filmmakers who have been building their collections for many years, and we are actively seeking new contributors. If you are interested in being represented by Danita Delimont Stock Photography, please contact us with a link to some of your images and/or web portfolio. We are looking for new photographers with depth and breadth in a subject area, especially if it highlights worldwide travel and nature, culture and traditional lifestyles. We will consider your work if you have difficult to find, specialized material that complements our collection.
We may be interested if you have:
Travel: Unique access to, and coverage of, a significant travel destination--the more remote the better.
Nature: Years of experience documenting specific habitats, ecosystems and the flora and fauna that live there.
Culture: Recent images documenting cultures and traditions from around the world, especially if you've lived among your subjects for extended periods.
Your imagery should be produced with professional equipment. Still images must be captured in RAW format, or scanned from medium or large format film with a high-quality scanner. All imagery must be properly cropped, color-corrected and spotted. We need images to be at least 24 MB uncompressed JPGs. Footage must be broadcast quality HD video.

All hi-res imagery must be completely captioned and keyworded in English. This is critical for sales, and we provide guidelines and examples to help make it as quick and easy as possible.

If you have a collection that matches the above criteria and would like to contact us to discuss representation, please provide us with the following:

A link to a website with samples of your work
Information about any other agencies or websites where your images are currently available
A summary of your areas of coverage, including how many fully prepared images and video clips you would have to offer initially, and how much new material you would expect to offer over the next year or so
A small photo of yourself and a brief statement about your background and photography
Current contact information including e-mail address, phone number, and mailing address
Please send all inquiries about representation to us at Danita@DanitaDelimont.com.